I am a little late with this post! I intended to share this mani with you yesterday but being a mum of two is a full-time job.
My 4-year-old daughter is a massive My Little Pony fan, so I thought it would be fun to do some freehand nail art inspired by one of the characters.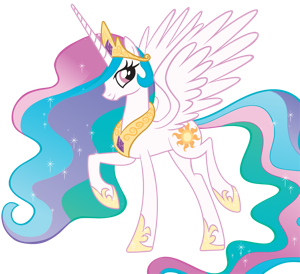 My inspiration: Princess Celestia
Princess Celestia is one of the co-rulers of Equestria, the land where the ponies live. She uses her unicorn powers to raise the sun at dawn, while her younger sister Princess Luna is responsible for bringing out the moon to begin the night.
I used a white base for all nails and saved a couple of images to my phone to use as reference.
Seven out of 10 nails are simple gradients, using brighter versions of the colours in her mane, and topped with a little holographic glitter. Then I focused on her horn and crown; eye (you normally see one eye while the other one is covered by her long mane); and cutie mark (the sun).
I added a bit of holographic glitter in the white areas as you can see on the photos above.
I really enjoyed doing this mani, it had been a while since I'd taken the time to do something as elaborate and it was super sweet. My daughter loved it!